I don't believe there aren't jobs out there for young people, they just don't know how to get them. We take 18- to 24-year olds from the job centre and put them through a 10-week job skills training course, giving them individual attention. We had an IT genius who couldn't get work until we put him on the shop floor at Toys R Us for a few weeks to learn basic skills. Now, he's landed his dream job.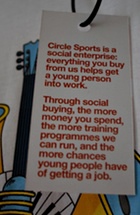 We're doing what Jamie Oliver is doing with Fifteen, but without a celebrity founder. I'm a single mum with a sports scholar son who often spent the weekend on the sidelines seeing how sport brought all sorts of kids from all sorts of backgrounds together.
I always wanted to go big with this social enterprise. I'm from a branding background and spent decades at big companies. From the beginning, I didn't imagine anything less than huge.
Mary Portas has given me her backing from the word go. She's rung several times and said she's happy to publicly endorse the shops, even if she doesn't have the time to personally be involved.
A lot of promised funding was pulled from us before we opened our first sports shop in Westminster in 2010. But, in the corporate world, you don't just give up. We found the money. People donated stock, Land Aid paid one of the wages for one year, John Lewis donated shop fittings. We've had support in various shapes and sizes from more than 20 blue-chip companies. Argos provided the shop fit out for the new Hackney store.
People think kids are tech savvy, but they can't do a lot of basic things that older age groups take from granted. We work with kids who didn't get on well at school, and they struggle doing certain things with email packages.
Circle has placed more than 60 young people in permanent employment, with a 90% retention rate (at least one year, but majority still in work) since the launch of the first Westminster store in 2010.
We trained one of the boys as a bike mechanic and he now works for Halfords. He still comes in to help out, as do the others who've been through the programme. They come in to mentor new kids. Lots of those who've been through the programme are now employed in West End retail stores. Perhaps they don't want to be in those jobs forever, but they've got confidence, ambition and skills, which they didn't have before.
Prince Charles came to the Westminster store and couldn't believe what was happening with young people in the UK. He seemed aghast when we talked about it.
We don't want to stigmatise our young people by flagging them up as a charity case, but we want people to know that buying with us contributes to kids' futures. We have our mission statement over the walls and on the clothing tags we explain to people that buying items will mean buying social and supporting young people.
We will devote a third of our shop floor space to new designers.We stock a mixture of well-known brands and new local designers and are moving towards more up-and-coming designers.
We've been chatting to John Lewis about an employee-ownership model. This is our aim. But working with the best legal experts it only looks feasible if we have more than 50 staff and £25,000 spare. At the moment, we have five full-time staff and two paid interns and run tight on incomings and outgoings.
We're not looking for loans; we aim to be self-sustaining in two years. Last year we brought in about £30,000 from sales and the DWP gives us money for supporting young people into work. We've also had £100,000 come from a variety of organisations including John Lewis, Trust for London, Land Securities and John Lyon's Charity in Westminster. We don't want to take on any loans. We know the model works, even if Westminster has had its ups and downs.
Turly Humphreys is the founder of Circle Sports.
This content is brought to you by Guardian Professional. To join the social enterprise network, click here.